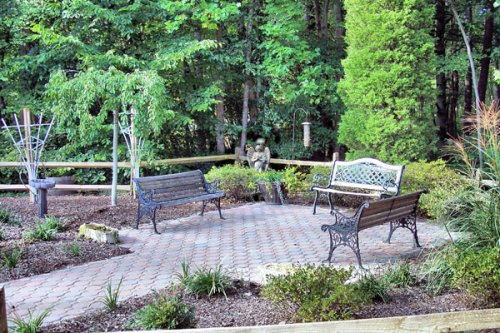 On behalf of the staff at Stafford Animal Hospital, we are honored to pay respect to our beloved animal friends who have passed. We also welcome you to create a lasting tribute for your beloved pet or animal friend on our website's Pet Memorial page. Please feel free to complete the following Pet Memorial Form.
Download & Print Questionnaire to add your tribute.
Our Memory Garden was established in 2009. Our staff felt it was important to dedicate the garden in memory of all those pets we have come to know, love, and, sadly, have lost over the years. Once established it has become a favorite place for private time, pictures, last goodbyes and a garden area for euthanasias. Our plans are to add bulbs and plants every year to honor their lives and memory. We realize we would not exist without the trust and support of our clients for over 30 years. Thank you for sharing your pets with us and giving us some wonderful memories to cherish.
If it should be that I grow weak,
And pain should keep me from my sleep:
Then you must do what must be done,
For this last battle can't be won.
You will be sad, I understand;
But don't let grief then stay your hand.
For this day, more than all the rest,
Your love for me must stand the test.
We've had so many happy years;
What is to come can hold no fears.
You don't want me to suffer so…
The time has come, please let me go.
I know in time you will agree,
It was a kindness done for me.
Although my tail its last has waved,
From pain and suffering I am saved.
Please do not grieve that it was you,
Who had this painful thing to do.
We've been so close all these years;
Don't let your heart hold any tears.
(Author Unknown)